The staycation trend is still going strong! Put on your tourist hat and spend the day on Magnetic Hill with fun for the whole family.
Start off the day in the Magnetic Hill Zoo  – animals are more active in the morning. You'll encounter more than 600 animals from all around the world in this 40-acre zoological park. The whole family will enjoy the 2.2 km loop. Kids will love petting friendly lamas, guinea pigs and bunnies. Teenagers will be amazed by gigantic snakes or incredible zebus with out-of-this-world horns, while adult will smile at the otters' antics or wonder at the formidable lions. Detailed interpretation panels will give you more info about the animals and their habitat. Don't forget to check out the gift shop when you leave!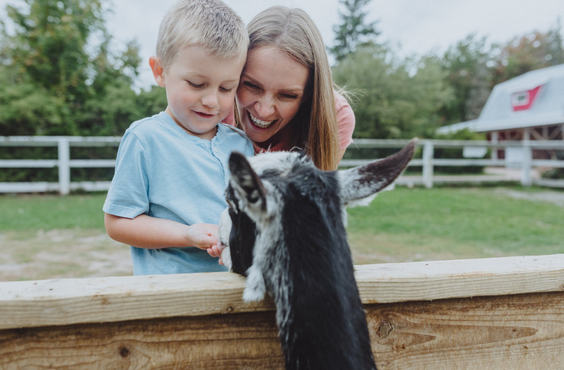 For lunch time, head to the Wharf Village. This lovely reconstitution of a fishing wharf, complete with colorful shanties and seaside decor, offers a restaurant, a café, and an ice-cream shop. Enjoy Maritime favourites such as lobster rolls, chowder or fish'n'chips as well as burgers and poutine. Don't forget to ask for fudge and homemade lemonade. The Wharf Village also features an antique shop and several gift shops for local souvenirs and crafts.
This afternoon, beat the heat in Magic Mountain. Atlantic Canada's largest water park has splash pads, thrilling water slides, a wave pool, and much, much more. Feeling lazy? Just chill on a lounger with some ice-cream… you deserve that relaxation! Make sure to check out Magic Mountain's different zones: the GolfZone with four 9-hole mini-golf course, the FunZone with exciting rides and the TekZone with traditional and arcade games. No need to choose: just try them all with the 4-zone admission. If you're feeling hungry, the admission is valid all day, so you can walk to the Wharf Village for that mini-donut or ice-cream refill.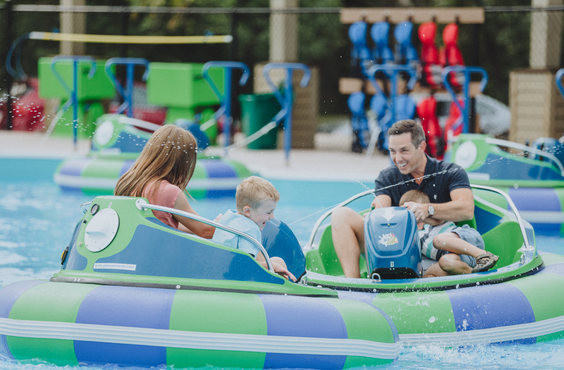 Tonight, get ready to be entertained at the Wharf Village: live music, fish'n'chips night or nachos night, there's always something fun going on. Vibe to the music as the sun sets. The Magnetic Hill complex is open everyday: why not come back tomorrow?