Home to New Brunswick's largest shopping centre and a downtown streetscape of independent shops, Moncton lets you find plenty of big brands, support local artists and artisans, and bring home local flavours.
GO BIG
More is more at CF Champlain, New Brunswick's biggest shopping mall, featuring more than 140 retailers, and home to more than 9.9 million visitors a year!
Trinity Drive Power Centre, Northwest Centre, Northwest Plaza and Plaza Boulevard offer excellent shopping opportunities in the northwestern part of town. You'll find everything you need to spend a full day in one spot: shop at a variety of big box stores and renowned store chains; take an afternoon pause to enjoy a movie at Cineplex Cinemas Trinity Drive; and stop in at one of the many restaurants in this area for lunch or dinner.
SHOP SMALL
Find high-end, quality women's clothing, jewellery, purses, footwear and more at Stile Fashion and Accessories on Main Street. At Elle Mio nearby, you'll find plenty of major lingerie brands in a boutique setting. Men, be sure to pay a visit to Colpitts, known for personalized service and world-class brands since 1913.
Also located on Main Street, My Home Mercantile is an East Coast established, curated gift shop that carries creations by more than 100 makers from across Canada. This welcoming and attractive boutique also has a large variety of Maritime-made products.
Be sure to also check out Klozet on Mountain Road. Here, you'll be able to find inspiring, one-of-a-kind pieces of clothing and accessories that showcase your unique personality and style.

My Home Mercantile
FOR THE ARTSY AND THE CRAFTY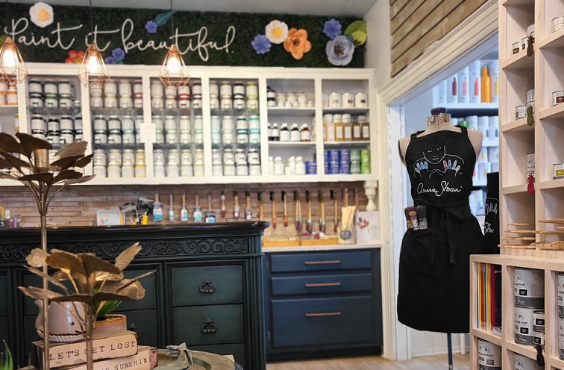 The Painted Pineapple
THRIFTY FINDS
Vintage treasures abound in Moncton. Check out these local boutiques:
Marché Moncton Market: More than 100 Atlantic Canadian growers, producers, artisans and culinary enthusiasts, all under one roof. A truly unique experience. See you at the market!
The Station Gift Shop:
Find a great selection of souvenirs, locally made products, accessories and more! Located inside Resurgo Place.
Specialty Food Shops:
The Arches of St. George:
Discover this vibrant and charming space in the heart of Downtown Moncton showcasing a variety of specialized boutiques and local products.