Swirl, sniff, sip, and savour delicious wines as you discover why wine lovers everywhere are drawn to Magnetic Hill for more than the optical illusion!
With the most scenic views of the city and overlooking Moncton's famous Magnetic Hill, the Magnetic Hill Winery offers a one-of-a-kind experience. The fully restored winery is set on a charming heritage farmhouse established in 1867. Guests can enjoy a tasting of various wines, sample local cheeses and stay for the delightful 'Picnic on the Patio' experience.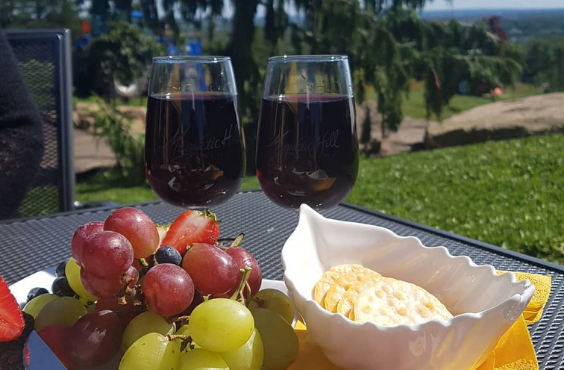 The winery's award-wining wines are unique in that they are produced from a variety of fruit, including cranberries, strawberries, rhubarb and blueberries, much like the area's ancestors who used to make wine using all local fruit.
The wines offer a taste of New Brunswick while reflecting names of local attractions. Wines offered include the Chocolate River Dessert Wine, Illusions, Évangéline Blanc, L'Acadie Blanc, the Mascaret, the Bay of Fundy Blue and the collection of Resurgo sparkling wines. An on-site gift boutique ensures guests can take their winery experience home with them.
Thumbnail and Top Photo: Magnetic Hill Winery
Magnetic Hill Winery
860 Front Mountain Road
Moncton, NB
506-384-WINE (9463)
magnetichillwinery.com
Special Feature:
Check out this article on what's new at the Magnetic Hill Winery and learn why it is a leader in the wine industry in New Brunswick ➡️ ARTICLE